If you are like most people, you rely on Microsoft Office for your word processing, spreadsheet, and email needs. So it's no surprise that scammers try to spoof Microsoft Office 365 with fake emails in order to get their hands on your personal information.
How can your Employees recognize a Phishing Scam?
In the past few years, we have had calls from a variety of our clients in Niagara and Hamilton wondering about emails that appear to come from Microsoft – Office 365 in particular.
It appears there is a phishing scam being served to Office 365 clients. It is not targeted to any one industry but to many industries of all types in the Niagara and Hamilton Areas.
Niagara and Hamilton businesses have been receiving emails that appear to come from Microsoft, with the subject line "Microsoft Support Case." In most cases, the emails look very convincingly from Microsoft as shown in the image below. These emails are phishing attempts, designed to trick users into providing their login credentials or other sensitive information. These fake emails often look like they're from Microsoft, and they can be very convincing. They might say that there's a problem with your account, asking you to verify your domain or that you need to update your payment information. But if you click on the link in the email, you could end up giving your password and other personal information to a scammer.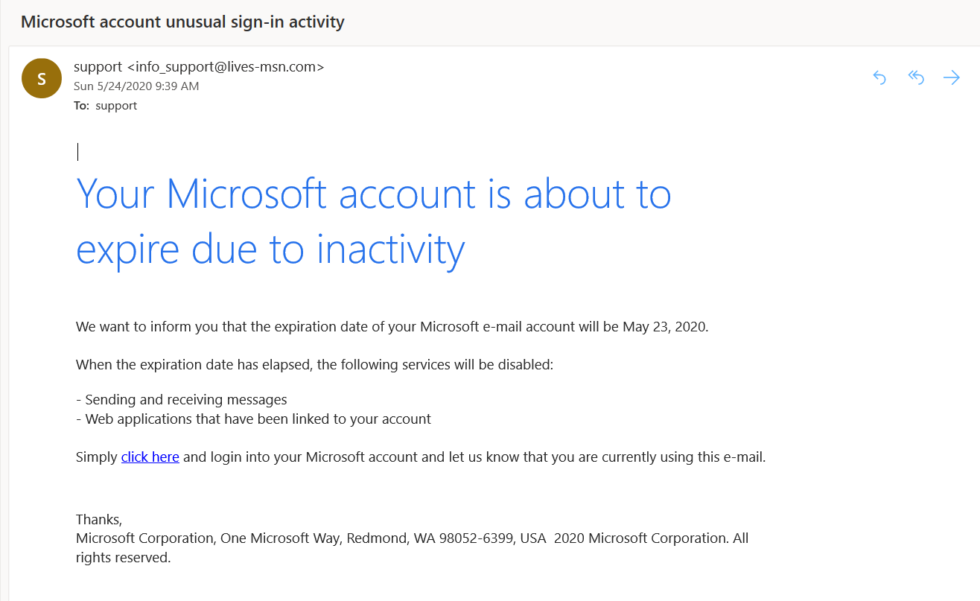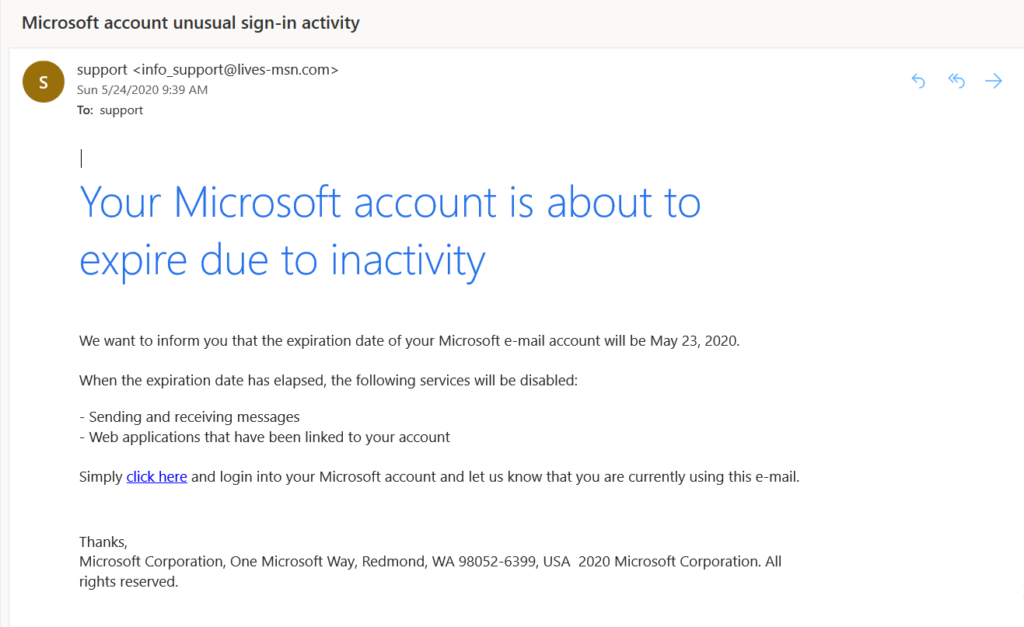 So how can you tell if an Office 365 email is real or fake? Watch out for these red flags to spot a fake Office 365 email:
They may try to rush you into making a decision.
They may use scare tactics to get you to act quickly.
They may promise something that seems too good to be true.
The sender's email address doesn't end in "@microsoft.com". A fake email might have a sender's address that looks similar to Microsoft, but with a small change, like .co instead of .com.
The link. If you hover over the link in the email, you should see the real URL that it will take you to. If the URL looks suspicious, don't click on it.
The message. Fake emails often contain grammar and spelling mistakes. This is a dead give away you might think but most people that click on the email either miss the mistakes or overlook them as being nontrivial. They might also try to create a sense of urgency, telling you that you need to take action right away.
The email is asking you for personal information like your password or credit card number
If you receive an Office 365 email that looks suspicious and you are unsure, don't click on any links or attachments. Instead, forward the email to Microsoft's abuse address ([email protected]) and then delete it.
Forward the email to Microsoft's Anti-Phishing team at [email protected]
If you think you might have clicked on a fake email, change your password and run a virus scan on your computer just to be safe.
Change your Office 365 password and update your security settings
Enable two-factor authentication for an extra layer of security
Email scams are becoming more and more common, and they can be very damaging. Cybercriminals take advantage of the trust people have in well-known brands like Microsoft. In this case, the attacker is pretending to be Microsoft support in order to gain access to a user's account. Microsoft will never ask for your password or other sensitive information via email. If you're unsure about the legitimacy of an email, you can contact Microsoft support directly to verify its authenticity.
By being aware of these scams, you can help protect yourself and your company from becoming victims of identity theft. If companies are not vigilant and proactive, they could end up risking companies' emails getting hacked. Taking a proactive approach to security is your best solution but if your security has been compromised, let's have a conversation.
If you are a victim of Cyber Theft, YourTech Cybersecurity can help!
Take advantage of our Free Customized IT and Cyber Security Optimization Plan and Assessment Audit.
If you're looking for a FREE IT and Cyber Security Audit near you, look no further than the experts at YourTech CyberSecurity. We'll tailor a solution specifically for your Hamilton, Niagara, or Halton business, ensuring that your IT infrastructure is running at peak efficiency. With our experience and knowledge, we'll be able to identify any potential security risks and recommend best practices to protect your data. Contact us for a quick chat today and let us show you what we can do!
We are local!
IT and CyberSecurity Services near you. We are local! We provide trusted services to businesses and organizations across Hamilton, Halton, and Niagara regions – regardless of size! Our local expertise is here for you. We provide computer tech support and cyber security service in the following cities. Reach out here for a quick Chat to see if we are a good fit for each other.
Grimsby, ON
Welland, ON
Burlington, ON
Port Colborne, ON
St. Catharines, ON
Fonthill, Pelham, ON
Vineland, Lincoln, ON
Stoney Creek, Hamilton, ON
Beamsville, Lincoln, ON
Pelham, ON
Wainfleet, ON
West Lincoln, ON
Smithville, ON
Fort Erie, ON
Thorold, ON
Niagara-on-the-Lake, ON