'Tis the season to be safe online
As you know, the holidays are a time when most people are celebrating and spending time with their loved ones, but cybercriminals see this as an opportunity to access your company's personal data. In fact, experts predict that Cyber Attacks will increase through the holiday season. Unfortunately, many businesses do not take the necessary precautions to protect themselves from these impending holiday threats. In fact, we at Yourtech Cybersecurity expect that Cyber Attacks will increase through the holiday season. Cybercriminals do not take a holiday.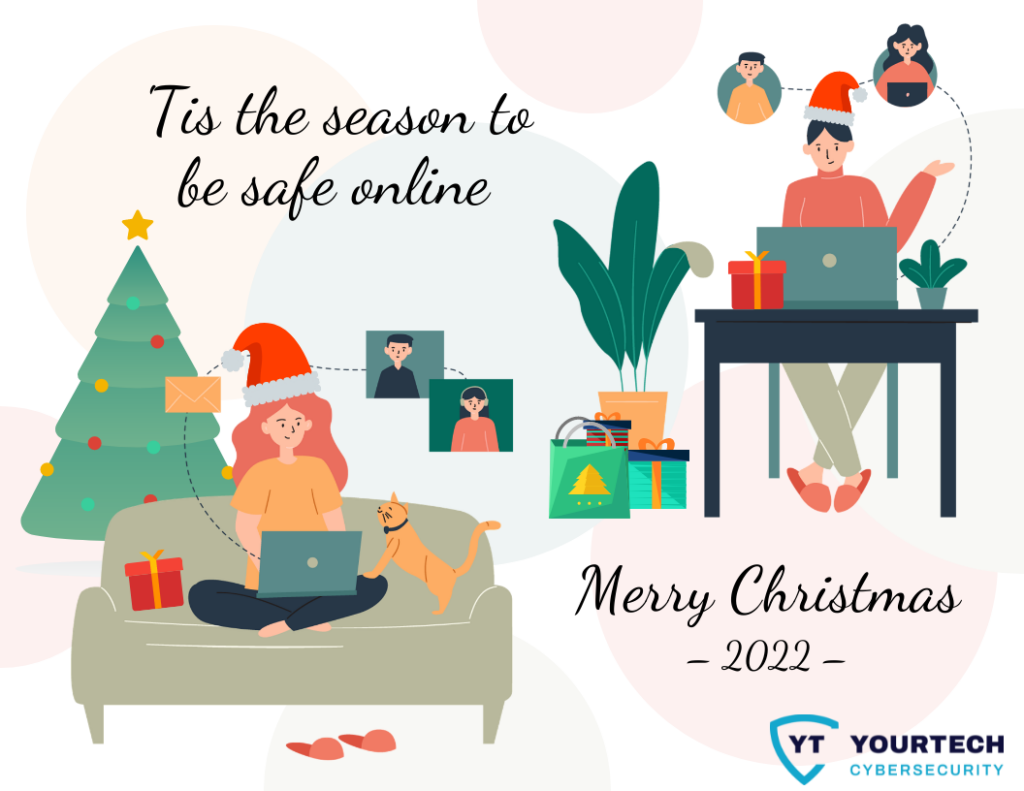 Do you have a holiday cyber attack strategy for your business?
Cybercriminals know that businesses close through the holidays, operate with a skeleton crew, and would most likely have their guards down. Some IT networks will go unsupervised during holidays which gives cybercriminals an open window to attack. Knowing that this is true, businesses should have a business strategy in place that includes the protection of their networks through the holiday season.
Cybercriminals are especially active during the holiday season when people are shopping online more frequently.
To protect yourself and your business, follow these tips:
Lock down your login by having your employees create long and unique passphrases for all accounts and using multi-factor authentication wherever possible.
Resist the urge to buy from websites you don't know – only purchase from trusted retailers.
Keep your devices free of malware, and use a VPN or phone hotspot for a secure Wi-Fi connection. Use secure Wi-Fi or a virtual private network (VPN) instead of free public Wi-Fi.
Create strong passwords and enable multi-factor authentication, and be cautious of too-good-to-be-true offers.
Shop on sites that use SSL protection (look for https in the URL) and only shop on secure websites (https) and monitor your accounts regularly.
Think before you click on links in emails – be wary of messages from unknown senders.
Pay securely with credit cards or third-party payment services like PayPal or Apple Pay.
Monitor your accounts regularly for suspicious activity.'
Keep a clean machine by running only the most current versions of software, web browsers, and other apps.
When making charitable donations online, never feel pressured to give on the spot. Do research on the organization first to ensure it is legitimate. Do not give to organizations that you have never heard of and resist the pressure of solicitations to give on the spot. Do not wire money or send cash. Only donate through the official website, call to give, or donate via credit card or check instead.
The effect that the Pandemic has had on the holiday season cyber security
Many times, organizations are so busy running their business that Cyber Security gets left to the wayside. Especially through the current Pandemic, it seems like every other day there is a new cyber attack. As we have seen in the news, businesses are struggling to stay afloat.
How do businesses and organizations protect their data in a work-from-home employee work business model with more and more workers requesting to remain working from home? Many will not return to the traditional workplace model as they enjoy the freedom and flexibility that this new business model affords them. While many people are very productive working from home, others are not. Either way, your risk of cyber stacks increases as a business owner while offering this work-from-home model to their employees.
With the rapid shift to a work-from-home business model being on the minds and plates of many business owners, Cyber Security has not been a consideration for most as they scrambled to pivot their business to a new and unfamiliar business model. With employees using their devices for both business and personal, the risk of a cyber attack has increased dramatically. Employees who do not follow cyber security guidelines have become the top barrier to IT security which has worsened due to the number of remote workers during the pandemic. Most employees admit to clicking on unfamiliar links and opening suspicious emails while working from home. 28% of small businesses say that they do not have a cybersecurity incident response plan in place for their business and this number goes up when you factor in the new work-from-home employee business model.
Work-from-home vs Work-from-anywhere
Keep in mind that work-from-home and work-from-anywhere are two completely different risks. Working from anywhere will open up your business networks to a higher risk of a cyber-attack as your workers may use unsafe business practices and devices as they log in anywhere in the world rather than just from their main home office. Many employees who claim to be working from home are actually working from anywhere without knowing or caring about the additional cybersecurity risks to their employers. It is important that companies understand the risks for each and establish appropriate cyber security incident responses in the event that a cyber attack occurs.
Data breaches can go undetected for too long
Cybercriminals often fly under the radar and can lurk inside systems for months retrieving sensitive data before they are discovered. Many breaches can lurk for as many as 250 days without the company being aware.
We are Cyber Security professionals near you
When it comes to professional IT services, trusting your partner is a critical and necessary part of any successful relationship. At YourTech CyberSecurity, we value our reputation as a professional and trusted IT service provider – which is why we offer an IT guarantee no other company can match.
Companies of all sizes risk a data breach without a proactive approach to Cybersecurity. We can work with you to establish a Cyber Security plan for your business. Your data will always be secure especially through holidays so you can have peace of mind. We serve a wide variety of Industries in Hamilton, Halton, and Niagara. Please reach out for a quick chat to see if we are a good fit for each other.
Contact us today to learn more about our Cybersecurity and IT solutions and how we can help protect your business in Hamilton, Halton, and Niagara!
YourTech CyberSecurity has over 20 years of experience protecting businesses near you from cyber attacks in Hamilton, Halton, and Niagara. We know how to identify and stop them before they cause any damage. Want to protect your business? Contact us for a free consultation.
YourTech CyberSecurity also provides online security awareness training and simulated phishing attacks to help employees identify and report potential cyber threats. We would be happy to provide a free trial of our service so you can see how it works.
If you're interested in learning more about our Services, book a quick 15 min appointment below so we can see if we are a good fit for each other. Stay Cyber safe and hope to talk to you soon!